Course details
【3-hour all-you-can-drink Yuntaku course】 The royal road all over !! All 6 items including sea grapes and taco rice 【3500 yen (tax included)】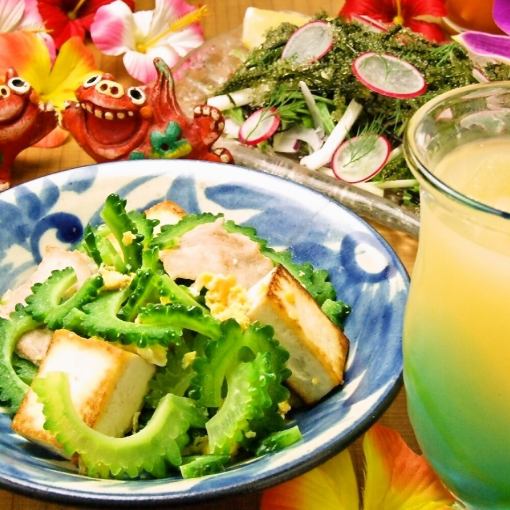 By using a coupon3500 yen
(Tax included) It is a price of 3 hours free drinks.
All-you-can-drink available

All you can drink about 150 types including draft beer only for course orders
Reservation deadline

Coming to the store until the desired date of the day 17
Available days for reservation

Friday, Saturday and Public Holiday
Original course of our shop ☆ It's a course to enjoy Okinawa casually! Great deals with all-you-can-drink 3 hours.
Course menu
【3-hour all-you-can-drink Yuntaku course】 The royal road all over !! All 6 items including sea grapes and taco rice 【3500 yen (tax included)】
~ Details ~
■ Captain Narita's Sea Grape
■ Okinawa Genki vegetable salad
■ Hirayashi
■ Champloo in the soul
■ Tempura of roast pot
■ Black rice taco rice
※ It may take 2.5 hours when crowded.Please acknowledge beforehand.
* It is possible to change to the premium all-you-can-drink all-you-can-drink awamori of Okinawa main island such as old liquor (Kusu) plus 500 yen.
Please tell us in advance!
All-you-can-drink menu
· Draft beer / tropical beer
· Orion Student ◆ Tropical Via ◆ Mango Beer · Guava Via · Pinebear · Sequencer Bear · Calpis Beer · Shandy Beer · Peach Beer
·sour
· Sequencer Sour · Passion Fruit Sour · Hibiscus Sour · Calpis Sour · Guava Salawa · Mango Sour
· Awamori / wheat shochu tea break · tropical
· Tea ceremony · Mingpin · Tea · Hibiscus tea · Oolong tea · Tranquilizer · Pineapple · Guava · Mango · Grapefruit · Orange · Ginger · Coke · Milk · Tonic · Coffee
Awamori
· Remnant Wave · Remnant Wave · Ruizen · Kaneyama · Yamabara Kunina · Kume · Sen · Chuan · Tokiwa · Rain · Tamarind · Manza · Ryukyu · Sakamoto · Terashima · Masahiro · Maru · Nico Nico Taro · Chrysanthemum Yu Ru · Temple of Honor · Tarara River · Yae Izumi · Direct Fire Buddhism
· Brown Shochu · Shima Shochu
· · Brown sugar shochu ◆ Village of Akari · Takakura · Ryugu Shrine · Yayoi · Kikai Island · Shimaki island · Himari · Shirayuri · Arisen ◇ Sho shochu ◇ (potato) Island of Tako Yaku · Shimamura Saki · Minamizumi · Chizuru (Wheat) Flower of Iki · Sakari Waka · First bill (Shiso) Tata Takan
- Plum wine, fruit wine
· Baekje plum wine · handmade plum wine in small form · plum beauty · brown sugar plum wine · chicken plum wine · red plum wine · lemon plum wine
·Highball
· High angle ball · Cork high ball · Ginger high ball · Remnant high ball
·Cocktail
· ◆ ◆ Cassis ◆ Mango ◆ Dita ◆ Passoa ◆ Jin ◆ Malibu ◆ Vodka ◆ Campari ◆ Peach ◆ Lamb ◆ Karua
·Soft drink
· Tea / Utchin tea · Sanshin tea · Hibiscus tea · Oolong tea ◆ Juice / Siquarcer · Pine · Orange · Mango · Guava · Grapefruit · Tonic · Ginjaele · Cola
· All you can drink at + 500 yen!
· Original cocktail / Niraikanai · Foam Mooni · Amami libre · cassis sanpin · mangosa · aka banner etc. ◆ carefully selected liquor / residual wave sake · genuine sake · dragon gold · nigini castle
2018/08/06 update