DETAIL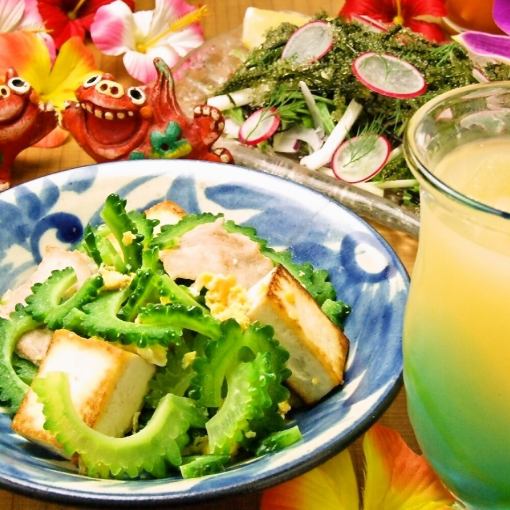 【3-hour all-you-can-drink Yuntaku course】 The royal road all over !! All 6 items such as sea grapes and taco rice 【3500 yen (tax included)】
3500 yen
(Tax included) It is a price of 3 hours free drinks.
Original course of our shop ☆ It's a course to enjoy Okinawa casually! A great deals with 3 hour drinks all-you-can-eat.
Menu

【3-hour all-you-can-drink Yuntaku course】 The royal road all over !! All 6 items such as sea grapes and taco rice 【3500 yen (tax included)】

~ Details ~

■ Captain Narita's Sea Grape

■ Okinawa Genki vegetable salad

■ Hirayama

■ Champloo in the soul

■ Tempura of roast pot

■ Black rice taco rice

※ It may take 2.5 hours when crowded.Please acknowledge beforehand.

* It is possible to change to the premium all-you-can-drink all-you-can-drink awamori of Okinawa main island such as old liquor (Kusu) plus 500 yen.

Please tell us in advance!
Coupon that can be used
【For celebration banquets !! Birthday · anniversary privilege】
Message dessert plate free service!

Presentation conditions

At the time of booking and when visiting

Conditions of use

1 pair 1 time 1 piece / 2 people ~ / even if it is not a course ☆ / drink 1 cup presents & sesame dumplings Can not be used with gift coupons / on regular offer at 500 yen ⇒ 0 coupon ___ ___

Expiration date

Until the end of December 2017